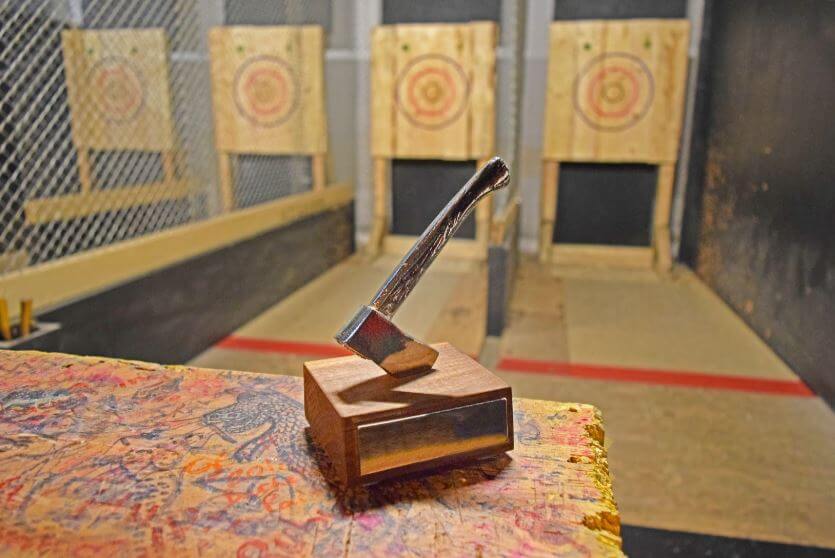 2018 World Axe Throwing League U.S Open Highlights
The 2018 Axe Throwing U.S Open was hosted by Bad Axe Throwing at their Lakeview, Chicago location. Over 80 participants from all over the world came to show off their skills, which is incredible since it was the very first time a world championship axe throwing competition had ever been held. Records were broken, axes were flung, history was made, but most importantly fun was had.  
2018 US Open Tournament
The best of the best arrived from all over the world on the morning of August 12th along with their friends and family. All competitors brought their game faces and the judges brought their score sheets. Crowds of fans came flooding in and started filling up the sidelines before the first axe was even thrown. Anyone at the event could agree that the energy, enthusiasm and sense of community was truly a special thing. 
Winners
The first-place winner of the first-ever WATL US Open Championship ring and 5,000 dollars went to John Bradley from KickAxe Throwing. The second-place winner walked away with 750 dollars and the third-place winner got 500 dollars. Every competitor walked away with some awesome swag and although they didn't win any money, they all gained a great sense of pride for being able to make history all together doing something they love. 
Trick Shot Competition
The competitors who truly had some stylish throws and mastered the true art of axe throwing were given a special Axcalibur Trophy. These trophies can most likely be found proudly hanging above all of the winners' fireplaces. 
Axe Throwing Festivals and Competitions
The next WATL competition is going to be held this upcoming winter in Tucson and competitors are already getting ready. The axe throwing community continually finds ways to celebrate the brand new sport, this past week the WATL threw a Throwdown Axe Festival in Colorado Springs. People and fans came from all over and had an absolute blast learning from and training with the best competitors in the sport.