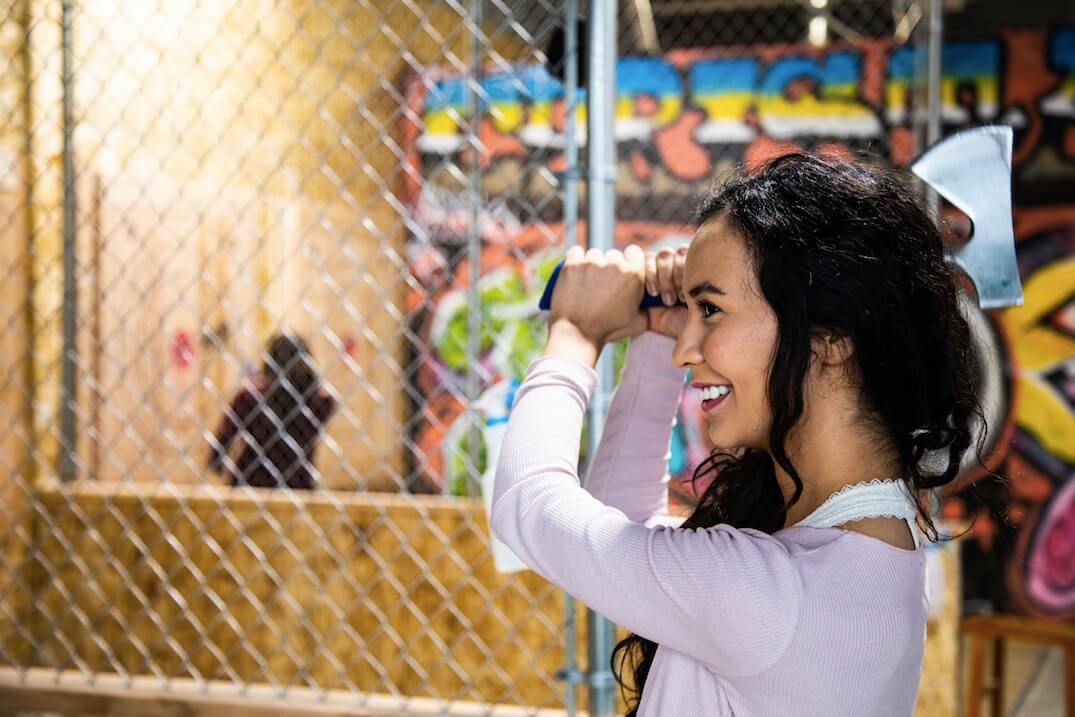 Axe Throwing In Utah – You won't find a more creative and fun group or date idea!
For way too long, movie theatres, fancy dinners and 5-class restaurants have been regarded as the staple of a what a good first date or anniversary should consist of.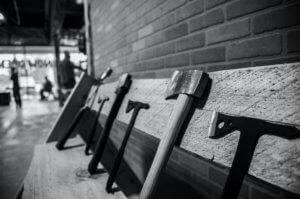 While there is definitely nothing short of amazing in treating your taste buds to fine cuisines in an expensive restaurant or staring at a movie screen for hours without saying anything to each other, there are arguably far more interesting ways to spice up a date night especially if it's a group date night.
Axe throwing. Yup, you heard right, Axe throwing is one of the fastest widely-adopted first date and social bonding ideas. It is up high on the list of fun things to do in Utah county. Granted, Eros and Cupid will rather shoot arrows at people all day, but the feeling of throwing an axe at a target is nonetheless very exciting and socially up-charging. The atmosphere at the best axe throwing venue in Utah, Phat Axe, is eclectic and presents a fun way to be interactive with one another. The sport itself requires marksmanship, precision and communication, making it an excellent opportunity to get to actually speak to your date with a casual vibe and you get to learn new skills.
Axe throwing in Utah county is an excellent opportunity to shine in front of your new catch and a fun way to share your humorous and playful personality. This way you get to be unconventional and convey your personality like never before and that's what dating each other should be about! You will even be in better luck if this is a group thing which presents the opportunity of each pair to bond and take on the rival couple.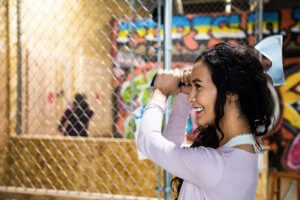 Even when we burst the love bubble, Axe throwing is still a great way to have family fun and American Fork Axe throwing is undeniably one of the best ways to inject fun as a corporate event idea. From birthdays to bachelor parties, romantic anniversaries to a valentine's day celebration.
Axe throwing presents the perfect opportunity to create a lasting and memorable impression on your first date, allowing you to engage in something fun, refreshing and exciting that is almost certain to pave way to a continued romance. Even if it isn't your first date, it still remains a great way to rekindle romance and have fun in the family setting.
Phat Axe currently has a wide array of venues that present the perfect location for Axe throwing in Utah county. Participants are encouraged to bring their food or relax at the bar with the right vibe of music while taking turns to hit at the mark. There is a great scoring feature, safety training and axe throwing technique tutorial that makes it one of the best date ideas in Utah county.
Axe throwing remains something refreshing and out of the box over traditional date nights and corporate events. It's definitely one of the most snapchat and Instagram-worthy things to do and is definite to being lots of laughs, stress and tension relief.
So, if you've been thinking about having that extra special experience, look no more. With no reservations needed, check out www.phataxeutah.com and explore the many ways you can make your date night extra special.