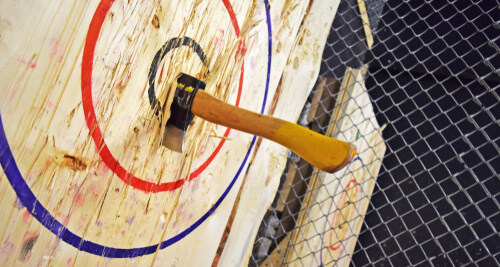 WHY AXE THROWING IS THE RAVE OF THE MOMENT
It is normal for folks to hear 'Axe Throwing' as a sport or leisure game, and not go all ballistic and hysterical. But Axe Throwing is now the rave of the moment in some urban countries like Canada and the United States. Of a fact, this game is now being regarded as one of the most thrilling, satisfying, communal and safest indoor/ outdoor games you can find around.
Although the Axe throwing game cannot be regarded as a new game in the history of man's existence, as it is a game that has been around since the Middle Age Era, by knights and soldier. But the fact that it is migrating from the woods to the urban setting, is the reason for its newness.
HOW CAN SOMETHING AS DANGEROUS AS AXE WIELDING BE SAFE?
Yeah, it is quite understandable for this question to be on everyone's lips, as an axe is one of the most dangerous tools around. But not to worry, axe throwing is one safe game, as it is a game with rules, despite the supposed bestiality of the action. In an organized organization such as Phat Axe, there are enough coaches who are ready and available to teach and monitor 'throwers' on the ground.
Also, there are rules and guidelines surrounding the games, which will help keep throwers organized, and out of harm's way. These guidelines are:
First and foremost, any axe used for this game, must not be too sharpened, to avoid cutting yourself or the other throwers. Your throwing axe mustn't be as sharp as your cooking knife. You don't need that much sharpness.
Stay away from the target spot as far away as 6 feet. Endeavor not to make a throw when there are people in front of you, or around the target area.
Don't rotate the axe to either the left or right, keep it straight before you throw.
Listen to your coach
If all these are strictly adhered to, throwers and everyone in the target room would be kept out of harm's way.
HOW TO PLAY THE GAME
Axe throwing game is a competitive one. It requires competitions between two groups of throwers play alongside each other. The players from each group get to throw their axes at the same time, at the countdown from the coach.
HOW TO THROW YOUR AXE
Throwers should hold their axes firmly in both hands, in a straight manner as written above. Don't swing your axe in a circle, keep it straight. Throw the axe over your head, lean back and release the axe forward towards the target.
There you have. It is as simple as ABC.